In our show's debut, I discussed how having high-level podcast goals can help you make decisions about your show. Now, in this episode, I'd like to dive a little deeper and explain how you can factor in the overarching purpose for your podcast when designing episodes, to offer maximum value to your business. It can be really challenging to decide where you need to invest your promotional time and money, or what kind of show notes are going to be the best investment, or how to make sure you're prioritizing your team's time when it comes to the many elements of your show. But there is a way to make these decisions, using the filter of your ultimate podcast archetype – Thought Leadership, Business Development, Audience Engagement or Content. These are the true Business Podcast Blueprints, and they're what we're talking about today on the Business Podcast Blueprint Show.
We're discussing:
Thought leadership shows: The aim here is to increase your reputation in your industry by presenting both your podcast and host as an authority. For a thought leadership show, your conversation with your guest should demonstrate that you are equals. Show notes should include the most important things that your host and company has to say about your topic area – information that you want to be associated with your brand and podcast. Generally, avoid ads and sponsors, unless it's a company you have a great relationship with, and one that won't deplete the value of your show. If you include ads, make sure that they are host-read. Promotion assets should be key quotations and insights that illustrate your perspective. Lastly, it's important that you invest in both production quality and repurposing.
Business development/Relationship-building shows: This type of podcast is used to get to know other people in your space, and nurture those relationships. The format is almost exclusively interviewing, where you direct the spotlight to your guest and focus on what they bring to the table. The same principle applies to show notes: include guest links, key points that they made, and quotations where they shine. Use ads and sponsors mainly for promoting your guests' or your own products and services. Promotion-wise, showcase the guest – their content, company, and what else they've done that makes them worth listening to.
Audience engagement shows: These podcasts are about connecting with an audience that you already have. You can produce any kind of content, as long as it is engaging your audience. This type of show requires careful attention to your metrics and traction, to ensure you're reaching your goals. Consider ways to involve your audience in the show, such as an audience question segment or reading comments. Show notes should be similar to thought leadership podcasts: focus on what your audience needs, like the action steps and key points that you've covered. For audience engagement shows, guests are optional and any type of ads or sponsors are fine. Promotional energy should be directed to disseminating your content, including through paid traffic.
Content shows: If your main goal is creating content, your show can take any format as long as it is reasonably repurposable and connected to your work. Show notes are a strong pillar of content shows, so make them as detailed and expansive as you can. Guests can be useful to expand the range of topics you create content on, but are totally optional. Any type of ads or sponsorships are fine. Invest in your assets and social content, such as your audio quality and repurposing.
Here is a breakdown of how to make these kinds of decisions: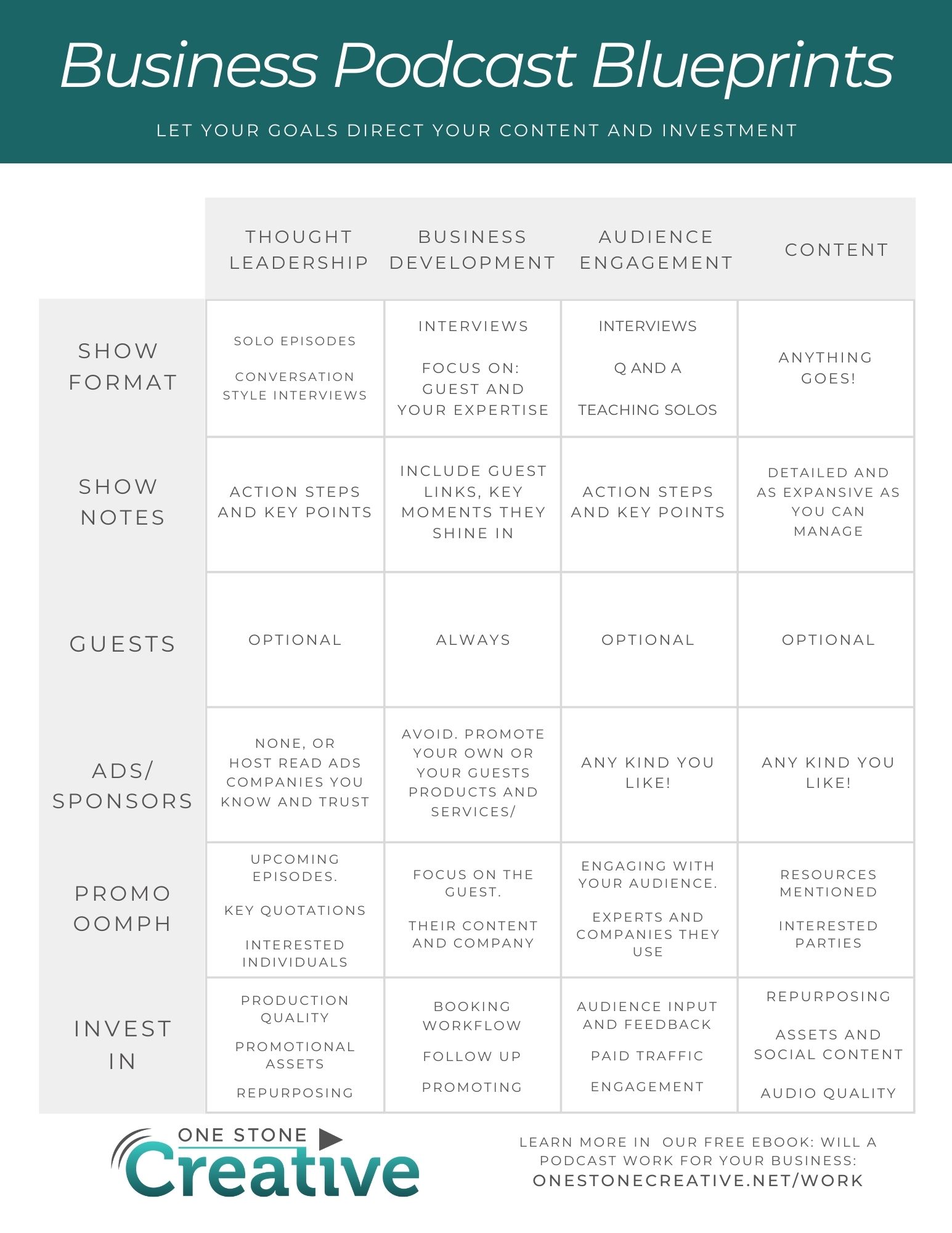 RESOURCES
One Stone Creative | LinkedIn | Twitter | Facebook | Instagram | Website
The White Coat Investor | Blog (Check out the amazing show notes!)