Not every podcast cares about downloads – and deciding that they aren't a key performance indicator can be one of the best decisions you make for your podcast. That was a choice that Emily Marsh and the team at Iconosquare made early on for the esm² podcast. Downloads aren't the point – brand and community building are. Those are just the beginning of the benefits, however, and they discovered that podcasting provided a shortcut to something absolutely critical for tech and marketing companies: Market Research.
Enjoy this snapshot of the Case Study, and subscribe to the the whole thing right here! 
Podcast Info:
Company: Iconosquare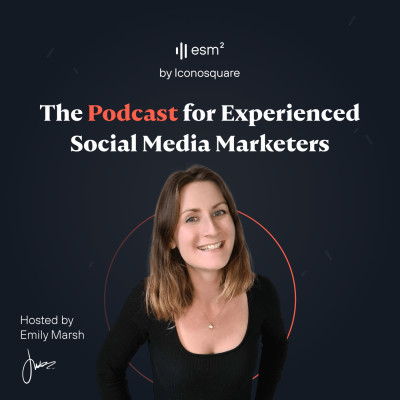 Podcast: esm² by Iconosquare
Social Media: Instagram,  LinkedIn,  YouTube,  TikTok,  Facebook,  Twitter 
Host: Emily Marsh
Reason for Podcasting: Creating a content hub to serve the clients and community of Iconosquare.
Challenges: Learning to podcast from scratch!
Format: A mix of interviews and tutorials explaining key strategies on a varied release schedule.
Pivots: In addition to interviews, the team translated some of their best performing blog posts into audio tutorials to increase the accessibility of their content, and add valuable multi-media elements to their posts.
Biggest Benefit from Podcasting: Direct feedback from clients about how they're using the platform, and how they would like to that can be shared directly with the sales and product teams to enhance the platform and the support.
Biggest Takeaways: Many users of a platform experience the same kinds of issues and problems in their strategy, and having a library of use cases and examples helps them expand their own ideas and plans for what they can accomplish.
Tools and Tech: Recording: Zencaster, Editing: Reaper, Hosting: Ausha 
Team Involved in Production: Emily Marsh, Iconosquare Promotional Team.
Learning Resources: Other podcasts in the industry!
Benefits of Podcasting:
Market Research for the product team: getting direct feedback about how companies and individuals are using the platform mean Emily is able to provide the product team with real-time information about what users want and need.
The sales team is also able to use episodes as examples and case studies for leads wondering how they might be able to integrate the platform into their strategy.
Focusing on high-level strategic conversations and tutorials creates a prestige feeling to the content and for the brand.
Make sure to check out esm² by Iconosquare!
Do you, or someone you know have a business podcast that is making a big impact? We want to hear about it! You can enter your initial details  here , and we'll be in touch!