The State of Business Podcasts, 2020
What is best practice for a business podcast?
No one knew for sure – so we found out.
A business podcast is one that is designed and executed as part of a broader marketing strategy. That means that there are different needs, priorities and decisions to be made for the business podcaster. We looked at over 30 individual data points for each of the top 100 Business podcasts (According to Apple Podcasts, October 15th, 2020) – and these are our results. You can see the data in the infographics below, and if are interested in a more detailed analysis (36 pages of analysis, action steps and resources based on the research, to be precise) you can download a copy for free. We've also created a shortlist of 6 elements that more than 70% of the top business podcasts all do, with instructions for how to apply them to your current or a future podcast, which you'll receive when you download the extended analysis!
We're currently working on the State of Business Podcast Report 2021, and this year we're running a contest with some AWESOME prizes – check it out and enter for free by clicking on the button below! 
We have organized the report into 5 categories: Age and Releases which deals with the age of shows, release schedule and episode length, Branding and Monetization which covers how show's present themselves and premium options, Parts and Technology coveres the different elements that make up episodes and the tools used to make them available, Notes and Websites looks at how podcasts exisit within the broader business environment and what is provided to liseners, and finally, Social Media coveres where podcsats, networks and/or hosts are the most active in promoting thier shows. You can navigate between these tabs to see the infographics for each category. You are welcome to share these infographics, but please link back to this page if you choose to do so! Of course, if you would like the more detailed information, analysis and action steps, you can download a full report for free by entering your name and email above.
The first thing we looked at what the age and release structure of podcasts. The key learning we wanted from this analsyis was how long the best shows have been podcasting (which has an impact on how fast and easily new shows in the category can try to gain traction), when the most popular time for release was, and what kinds of releases occur on what schedule. Here's what we found out!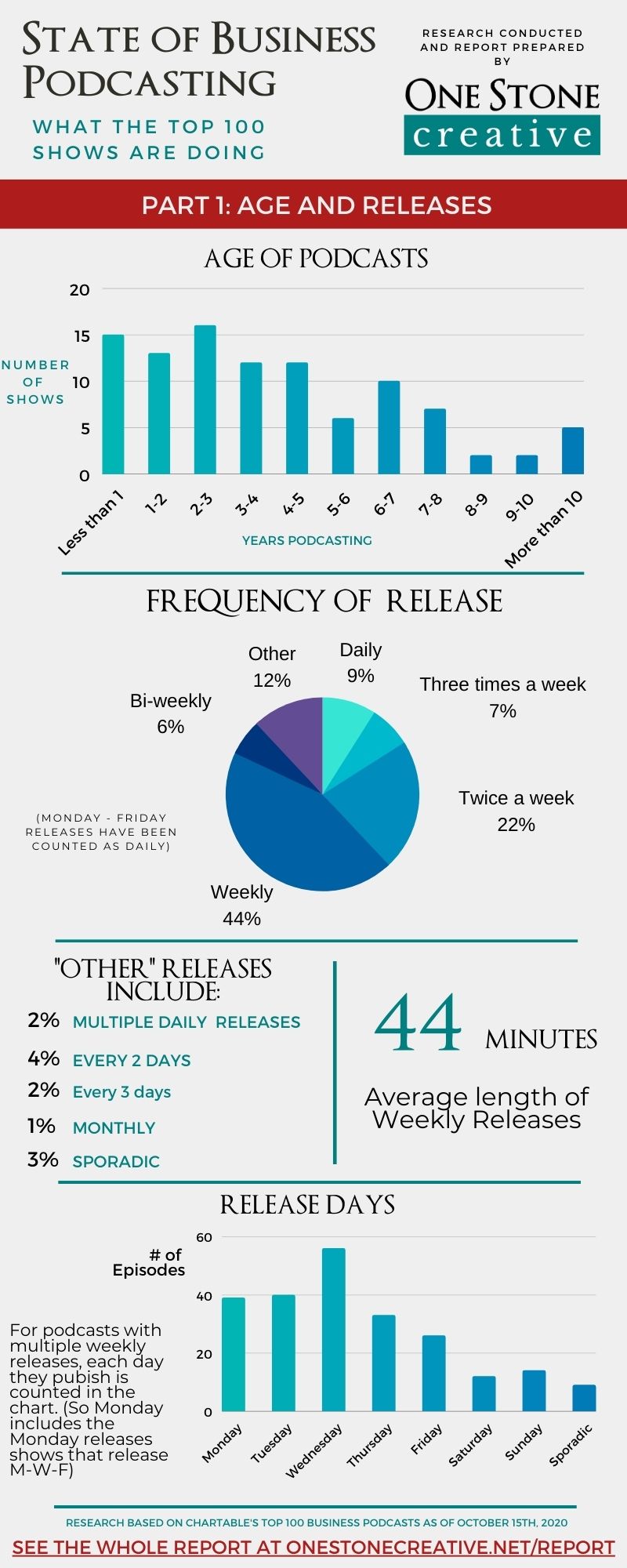 Branding and Monetization was an area where we thought we could identify some real, solid patterns in what the top shows were doing – and we did! One interesting point was just how many of the most successful shows were part of networks – it was a higher percentage than I had anticipated. If you download the extended rport, you'll find more information about the different kinds of networks, and how you can replciate some of the benefits as an independant!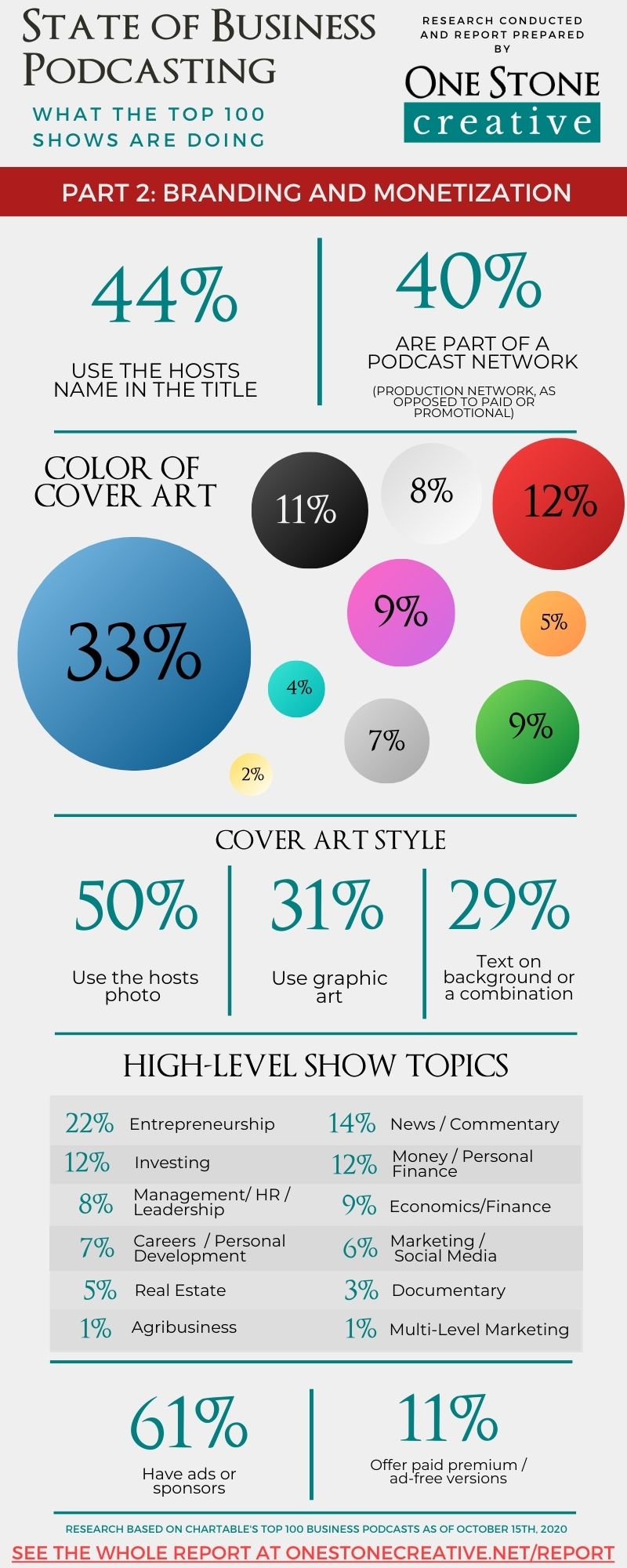 In Show Parts and Technology we looked at the format and content of the top 100 business podcasts, and discovered that paying attention (and adding a little polish!) to opening and closing sequences is a best practice, and if there's a way to integrate some kind of guest contribution, you probably should.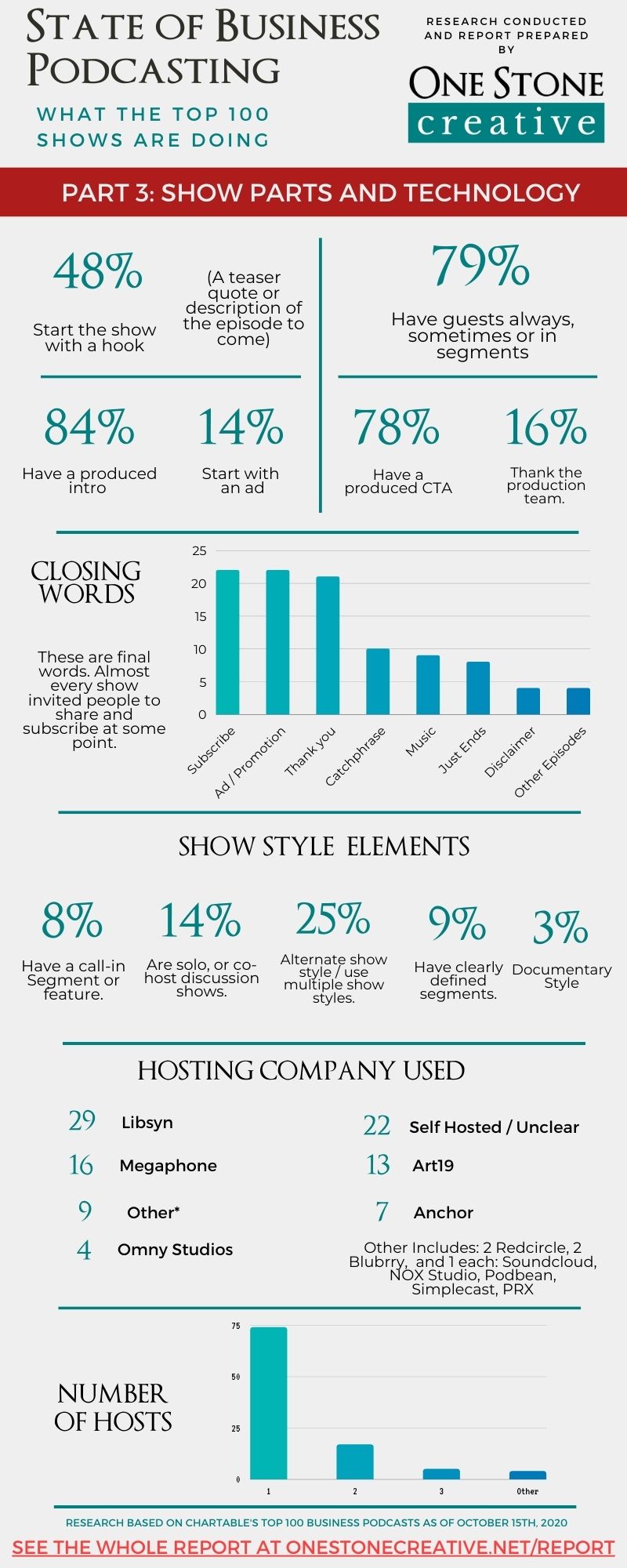 While the quality and content of the podcast is a key priority, how it's presented on your own website matters as well – especially as a business podcaster who has other content and development goals to achieve. The type of show notes, and how they are arranged will make a big difference to how your audience engages with the rest of the content you produce.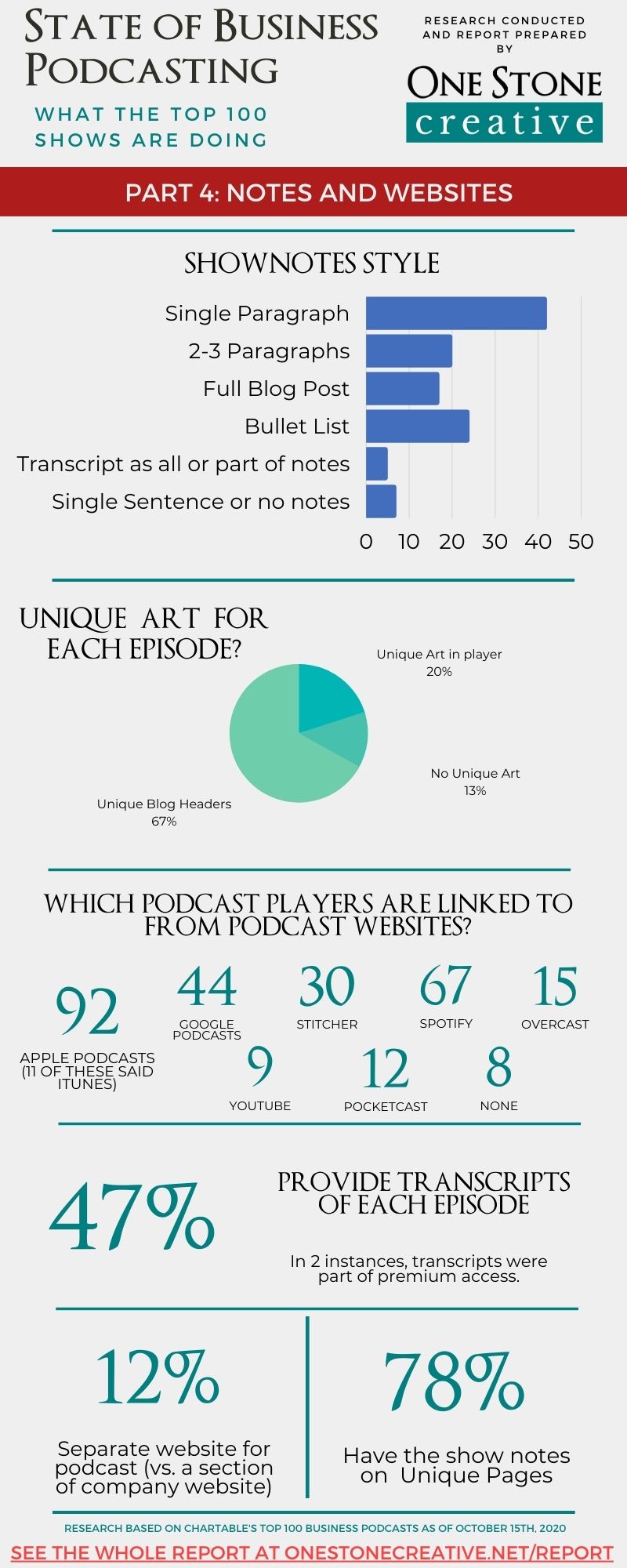 How to grow your podcast is one of the biggest concerns for all business podcasters. Making the show is one thing, but promoting and growing it is another. To help newer shows make those decisions we took a look at which social media platforms were the most active for the top 100 shows – and how they are using them!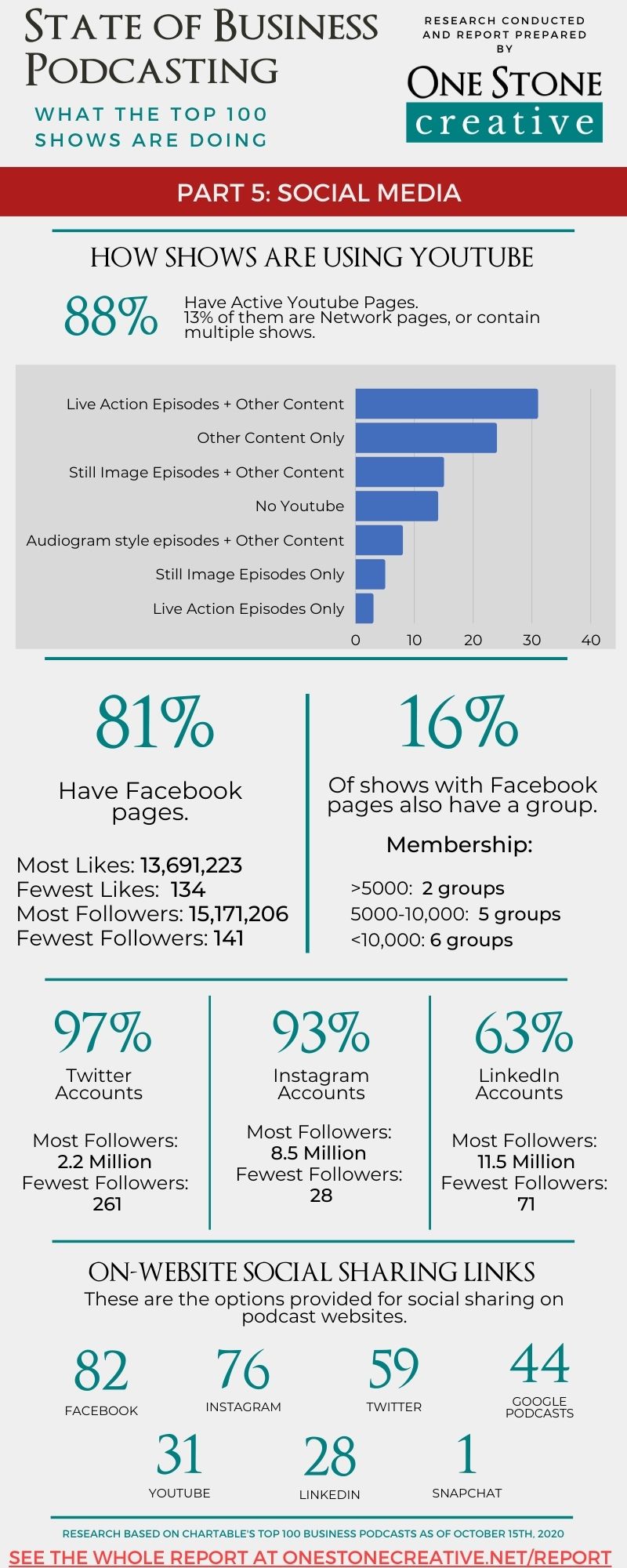 Would you like a guest post about how these stats might affect your particular industry? We'd be happy to create a custom version of it for your audience, with a unique set of action steps and analysis. Megan Dougherty is also available if you'd like to discuss the results on your podcast! Please send her a note using the form below, and she'll be back in touch directly!
Interested in discussing this report?
Share your details below and Megan will be in touch shortly!